Turner Syndrome Care Guidelines for Patients and Families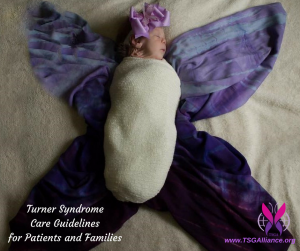 The Turner Syndrome Care Guidelines for Patients and Families is now available online. This lay version of the guidelines is a condensed version of the Professional Care Guidelines, in easy to understand language.  www.TSPatientEd2017.org
Turner Syndrome Care Guidelines for Professionals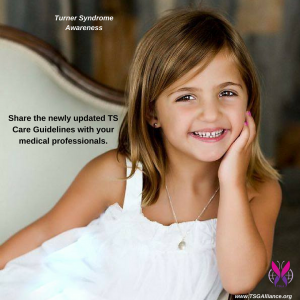 After two years of dedicated work by a team of experts from both the US and Europe, the new Care Guidelines for TS have been finalized. TSGA is proud to have been a primary sponsor of this project.
https://drive.google.com/…/0B-NbtSp784WhMEpFbkxQODZKe…/view…
These guidelines are directed by evidence-based research. We are now working with the greater TS community to increase research to fill in gaps in our knowledge.
3rd ANNUAL KALEIDOSCOPE WALK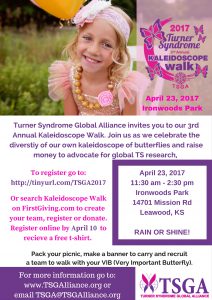 GROWTH AWARENESS VIDEO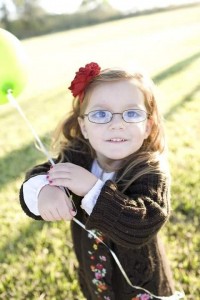 This video was created by Turner Syndrome Global Alliance for Growth Awareness Day, September 15, 2015. Growth is an indicator for health in children. Help us spread the word by sharing this video.
Proceedings From the Turner Resource Network Symposium: The Crossroads of Healthcare Research and Healthcare Delivery

 
 

                 

   
A Summary of the First Turner Resource Network Symposium…read more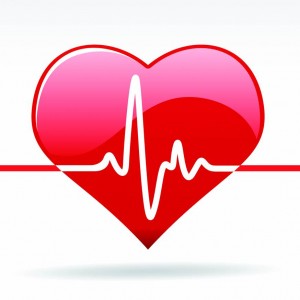 Aortic Dimensions in Turner Syndrome – This recent research article comes out of Oregon Health and Sciences University, home of Dr. Michael Silberbach who is a cardiologist, researcher, and long time TS advocate. The information presented in this article will allow clinicians and other caregivers to calculate aortic Z-scores using a Turner-based reference population. Share this with your own cardiologist! June 2015 Read more…